Electrostatic Disinfection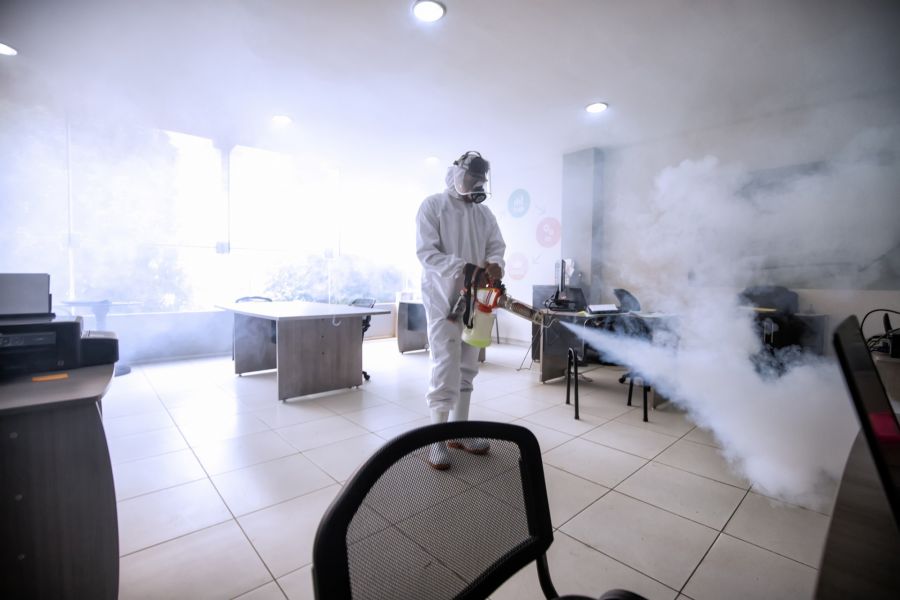 Are you worried about the cleanliness of your commercial property? Are there concerns of liability or loss of generated income if employees become sick? Maybe your business simply wants to promote the fact that you follow CDC recommendations about cleanliness and disinfection because you care about your consumers. Call Midwest Janitorial Specialists, Inc with 13 years in the business helping our customers stay healthy with Electrostatic Disinfection. Instead of spreading dust and dirt around while wiping with a rag or duster, you can completely disinfect even the smallest areas with electrostatic spray technology. The disinfection solution is sprayed evenly and thoroughly covering even the hardest-to-reach places. Midwest Janitorial Specialists, Inc technicians offer electrostatic disinfection for commercial properties including offices, educational facilities, medical facilities, government buildings, banks, and so many more.
---
Call for a FREE Quote
---
What is Midwest Janitorial Specialists, Inc's Electrostatic Disinfection Process?
Electrostatic disinfection covers every nook and cranny ensuring the most thorough sanitization coverage employing a special type of sprayer. A disinfectant solution is put inside an electrostatic sprayer which is combined with air. An electrode inside the sprayer nozzle applies a positive charge to the liquid as it passes through the nozzle and then is sprayed onto surfaces. Any negatively charged surface will bond with the positively charged disinfectant creating the most complete coat of disinfectant. Any pathogens on the surface will effectively be killed. The electrostatic disinfection process may seem complex, but it is a simple, highly effective form of disinfecting provided by Midwest Janitorial Specialists, Inc. Call (630) 454-1745 for a free estimate.
Benefits to using Midwest Janitorial Specialists, Inc's Electrostatic Disinfection Services
The Electrostatic spray method can cover hard-to-reach surfaces.
Kills 99.999% of pathogens for up to 30 days.
It's 10 times as efficient as conventional cleaning methods.
All disinfectants are OSHA, EPA, and CDC approved and compliant.
Safer and more consistent application with no disruption to existing areas, papers, or surfaces with quick kill time and no residue.
Takes 50% less time disinfecting hard-to-reach places compared to conventional methods of cleaning.
Effective against highly contagious viruses such as COVID-19, influenza, MRSA, and more.
Promotes the decrease in workplace illnesses and liability of someone getting sick at your facility.
You won't lose the 67% of consumers who say they won't use a business if it doesn't take health and safety measures!
Facilities That Can Benefit From Midwest Janitorial Specialists, Inc's Electrostatic Disinfection Services
For highly effective disinfection for your commercial space, call Midwest Janitorial Specialists, Inc. We provide electrostatic disinfection services for a wide range of facilities, including but not limited to:
Commercial kitchens
Churches and places of worship
Industrial facilities
Corporate facilities
Medical and healthcare facilities
Schools and educational facilities
Large and small office spaces
And more, just call (630) 454-1745 today
---
Call for Fast FREE Quote
---